NICEIC
The is the UK's consumer safety organisation and independent regulatory body for the electrical industry.
We have been fully qualified and approved NICEIC electrical contractors for over 15 years.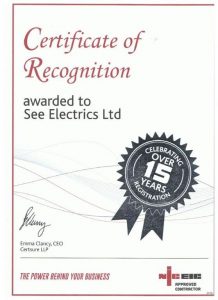 When it comes to improving the electrics in your home, choosing an NICEIC or ELECSA registered contractor is a householder's best option. That's because all NICEIC and ELECSA registered businesses are covered by our Platinum Promise – a promise that protects you against all non-compliant installation work.
All electrical installations, over time, will deteriorate naturally as they are a working mechanism made up of various components and working systems.
Much like an MOT for cars it is important that you ensure you carry out checks on the condition of the electrics in your home at regular intervals. This will help identify any faults or defects which could require improvement and will ensure the continued operation of the installation in a safe and effective manner. There are two kinds of checks that can be carried out and we recommend that you always employ a registered electrician to carry out such checks.
When lighting up an outside area it is important to ensure it is installed professionally and safely. NICEIC and ELECSA recommend that you should always use a registered electrician to carry out any work so it is safe for use.
Part P of the Building Regulations was introduced by the Governemnt on January 1st, 2005 to protect householders and reduce the risk of electric shock.
It brought all electrical work carried out in the home under statutory control – requiring certain jobs to be notified and signed off by a local building control department, or a Competent Person Scheme registered electrician, so that it meets the appropriate safety standards.